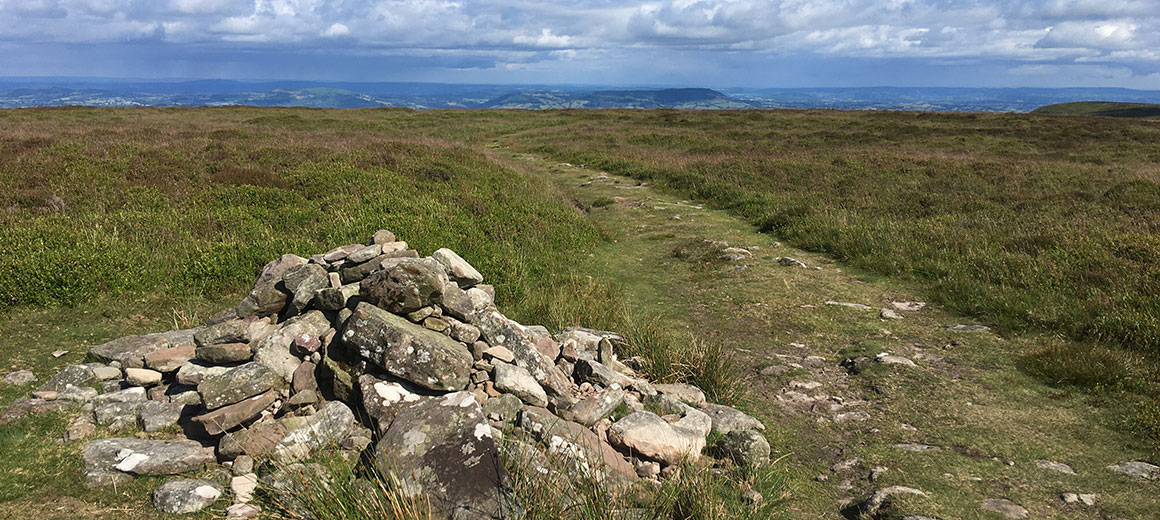 Day by day guide to the walk
A Really Goode Walk is a six-week fundraising adventure in autumn 2022 – as Julian Goode walks coast-to-coast across all four countries of the UK to bring in sponsorship monies for Barts Charity and Anthony Nolan, who have helped him so much since his Leukaemia diagnosis in 2019… with an itinerary running from the start in Wales on October 5, to a finishing day set for November 15 in Scotland.
Below you can see a detailed day-by-day plan for the different legs of the journey, across Wales, then Northern Ireland, England, and finally Scotland. Three of those follow well known Trails – Offa's Dyke Path in Wales, Hadrian's Wall Path in England, and The John Muir Way in Scotland – while the route across Northern Ireland has been planned bespoke between Kilkeel on the Irish Sea coast, and Derry near the Atlantic coast in the north west.
It's very much part of the sociable ethos of A Really Goode Walk that people walk along with Julian, for as much time as they're able to commit. If you can only manage a day, that's fine; if you fancy a whole week or more, joining him on one of the sections – that'd be great. If you just want to turn up one evening in a rural pub to meet and say hello – that'd be brilliant too! Have a look at the itinerary and see what works for you – then email julian@goodewalks.co.uk to outline what you're thinking.
Leg 1 - Offa's Dyke Path - Chepstow to Prestatyn
This first section of the A Really Goode Walk route starts in south Wales at Chepstow on the Severn Estuary, and runs 177 miles north to Prestatyn on the Irish Sea coast. As with all the legs of the walk, Julian will be camping where possible (where sites are convenient, and still open in the autumn!), or if not then looking for bed and breakfasts and other sources of accommodation. If you do get in touch to indicate you want to join a section of the walk, then he can let you know where he's booked in to, so you can do so too if possible!
Day 0 (October 4): Final packing and travel to Chepstow
Day 1 (Tuesday, October 5): Chepstow (Sedbury Cliffs) to Monmouth, 18.5 miles
Day 2 (October 6): Monmouth to Pandy, 16.75 miles
Day 3 (October 7): Pandy to Hay on Wye, 17.5 miles
Day 4 (Saturday, October 8): Hay on Wye to Kington, 14.75 miles
Day 5 (Sunday, October 9): Kington to Knighton, 13.5 miles
Day 6 (October 10): Rest day – Knighton
Day 7 (October 11): Knighton to Brompton Crossroads, 15 miles
Day 8 (October 12): Brompton Crossroads to Buttington, 12.25 miles
Day 9 (October 13): Buttington to Llanymynech, 10.5 miles
Day 10 (October 14): Llanymynech to Chirk Mill, 14 miles
Day 11 (Saturday, October 15): Chirk Mill to Llandegla, 15.5 miles
Day 12 (Sunday, October 16): Llandegla to Bodfari, 17.5 miles
Day 13 (Monday, October 17): Bodfari to Prestatyn, 12 miles
Day 14 (Tuesday, October 18): Prestatyn, rest; and travel towards Northern Ireland via Holyhead, and Dublin
Leg 2 - Northern Ireland - Kilkeel to Derry
There not being an obvious trail to follow in Northern Ireland, and having decided that the best coast-to-coast route would be from the south east to Derry/Londonderry in the north west of the country, it was simply a question of planning a viable walk. Starting in Kilkeel, the journey will roll through the city of Newry, and the towns of Portadown in Armagh, Coalisland and Cookstown in County Tyrone, then into County Londonderry via Draperstown and Feeny.
Day 15 (Wednesday, October 19): Travel towards Kilkeel via Dublin
Day 16 (Thursday, October 20): Kilkeel to Newry, 18 miles
Day 17 (October 21): Newry to Portadown, 19 miles
Day 18 (October 22): Portadown to Coalisland, 15 miles
Day 19 (October 23): Coalisland to Cookstown, 8 miles
Day 20 (October 24): Cookstown to Draperstown, 13 miles
Day 21 (October 25): Draperstown to Feeny, 12 miles
Day 22 (Wednesday, October 26): Feeny to Derry, 15 miles
Day 23 (Thursday, October 27): Derry, rest; and travel onwards to England via Belfast, Stranraer, Dumfries and Carlisle
Leg 3 - Hadrian's Wall Path - Bowness to Newcastle
This third section is the history lover's dream – the 84 miles in the wild north of England taking in a host of Roman forts and other archaeological features. Starting on the Cumbrian coast at Bowness-on-Solway, the route heads east over six days to Wallsend… with an extra five miles added on to reach the North Sea coast at Tynemouth on the last day in Newcastle. From there it'll be an easy trip up the East Coast Main Line to reach Dunbar for the final leg in Scotland.
Day 24 (Friday, October 28): Travel towards Bowness-on-Solway
Day 25 (Saturday, October 29): Bowness-on-Solway to Carlisle, 14.25 miles
Day 26 (Sunday, October 30): Carlisle to Walton, 11 miles
Day 27 (October 31): Walton to Steel Rigg (Haltwhistle), 16.75 miles
Day 28 (November 1): Steel Rigg to Chollerford, 12 miles
Day 29 (November 2): Chollerford to Heddon on the Wall, 15.25 miles
Day 30 (November 3): Heddon on the Wall to Wallsend, and Tynemouth, 15 + 5 miles
Day 31 (Friday, November 4): Rest in Newcastle and onward travel to Dunbar in Scotland for the fourth leg
Leg 4 - The John Muir Way - Dunbar to Helensburgh
The final leg of A Really Goode Walk heads west from the North Sea coast at Dunbar to Helensburgh on the Firth of Clyde, taking in Scotland's beautiful capital and lots of other historic towns and villages in the Central Belt. It's 12 days of walking, plus a midway rest day in Falkirk… before the final push north of Glasgow to the finishing point (champagne at the ready!).
Day 32 (Saturday, November 5): Dunbar to North Berwick, 15 miles
Day 33 (Sunday, November 6): North Berwick to Prestonpans, 16.5 miles
Day 34 (November 7): Prestonpans to Edinburgh, 10 miles
Day 35 (November 8): Edinburgh to South Queensferry, 15.5 miles
Day 36 (November 9): South Queensferry to Linlithgow, 14 miles
Day 37 (November 10): Linlithgow to Falkirk, 8.5 miles
Day 38 (November 11): Rest day – Falkirk
Day 39 (Saturday, November 12): Falkirk to Kilsyth, 13 miles
Day 40 (Sunday, November 13): Kilsyth to Strathblane, 13 miles
Day 41 (November 14): Strathblane to Balloch, 18.5 miles
Day 42 (November 15): Balloch to Helensburgh, 9 miles
Day 43 (November 16): Rest and onward travel via Glasgow back home
Day 44 (Thursday, November 17): Back home in Essex – lots of rest!